Log In to Start Earning!
You must be logged in to be able to claim money from our games.
Log In
Dashboard
Information
We provide a way to earn money while playing our Customs in Elite Customs, you will find the requirements to earn money from our games here.
What Games Qualify?
Games that have a "Prize" embed under the release message are claimable through this dashboard. See image below for reference: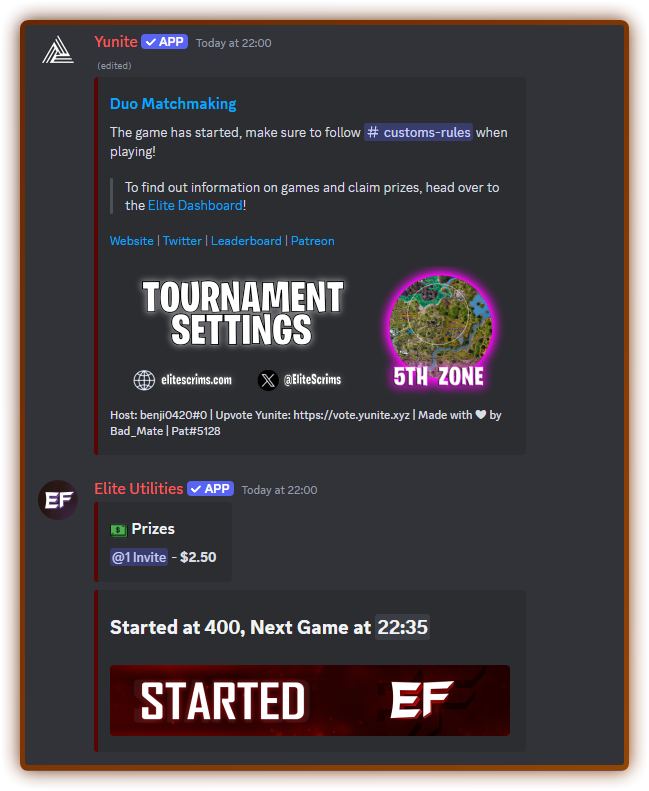 To be able to claim the game, you must meet the requirements below.
Requirements
To qualify for Elite Customs' Money Games, you must meet the following requirements:
All team members must be in Elite Customs.

Win a scrim in Elite Customs that meets the following criteria:

The lobby must have at least 80 players.
The game must have a prize.
You must have the prize role, in the example above, @3 Invites before the game starts.
You must win the prize.

The game must be submitted above.
Please allow up to 24 hours for the balance to increase in the dashboard, staff manually check the games and validate results. Prizes are total and split between teammates, for example, if a Duos Game is worth $10, each teammate receives $5.
Withdrawing Money
Money can be withdrawn every $50, and not intermediate values. Dashboard balance is reset on the 1st of each month, and any previous balance that has not been claimed is not able to be withdrawn afterwards.
When reaching the $50 threshold, you will be able to see a 'Withdraw Money' button. Click that and wait for Administrators to contact you via Discord Direct Messages.